Metal of Honor awards: 1 Website: www.mrsrollform.com PHONE: 888.284.6794
Metal Rollforming Systems (MRS) is proud and honored to receive our first Metal of Honor award. MRS has been designing, manufacturing, and selling roll formers and accessories since 1993. We constantly strive to create the best quality roll forming equipment possible.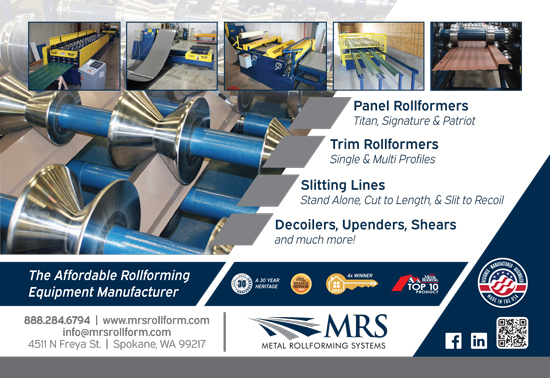 Metal Rollforming Systems aims to be your one-stop shop for all your roll forming needs, allowing you to save time and money when purchasing a roll former. Along with our complete selection of panel rollformers, we also specialize in custom trim profiles along with all the needed accessories to complete your metal panel needs.
As a leader in the light gauge panel rollforming market we continue to press the boundaries of what is possible with cutting edge panel design and industry leading innovations. Some of our newer to market profiles include the Quad rib, Board and Batten, and F&J trims. These have all generated great interest in the market place and have helped our customers continue to raise the bar and differentiate themselves.
We pride ourselves on helping our customers both before and after the sale. We believe this is a large of why our customers and the industry continue to recognize and honor us with awards like the Metal of Honor. Our customers' success is our success and our business is based largely on repeat customers and referrals. We are honored that our customers speak so highly of us. We strive to make the best experience for our customers and to make them confident they've purchased the right roll former from the right company.
Metal Rollforming Systems has grown from a single man building roll formers to a 100-person crew. Our complete in-house design and production allows our team to keep precision control over each aspect of the manufacturing process. This assures us that each roll former is done right and will be reliable for our customers for many years to come.
From our family to yours, thank you for the honor of this award and for the privilege of serving the industry for over three decades! MOH
By Metal Rollforming Systems.
---