Metal of Honor awards: 2 Website: www.applicad.com PHONE: 561-748-0545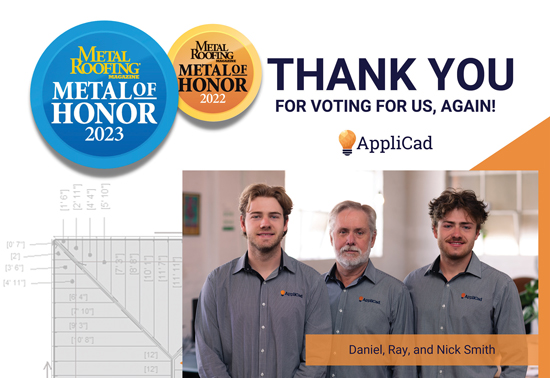 AppliCad's Innovations
Make Roof Wizard the Metal Roofing Software Takeoff
Tool of Choice
Over 30 years ago, AppliCad was the first to develop 3D CAD-based estimating tools for roofers, allowing them to replicate the geometry of a roof and simulate the application of roofing materials. Over time, AppliCad developed various methods to account for the reuse of offcut material and replicate what many installers were already doing in practice. This led to the development of a 'map' or panel layout with a matching cutting list that allowed everyone to work off the same page.
AppliCad also developed a system that could extract the cutting list and send it directly to the controller on the roll forming machine. This reduces errors, improves productivity, and labels each sheet to identify where it should be installed. This improves accuracy and efficiency both in the factory and on-site and has been in use for more than 20 years.
With Roof Wizard, the team at AppliCad arguably developed the most comprehensive toolkit for metal roofing estimators/quantity surveyors in the world. This toolkit allows them to extract the most accurate information for every job in a timely manner. Experienced operators using Roof Wizard software can estimate between 10 and 15 residential jobs per day, complete with detailed labor and material costs and production/fabrication documentation.
The AppliCad team proudly keeps adding functions that improve the estimating work for roofing and siding projects, no matter how complex. MOH