It's already shaping up to be a great 2021 for ProfileVent® from Ventco® Inc. "Thanks to the readers of Metal Roofing Magazine for recognizing how hard we all continue to work during these challenging times at keeping our customers happy," said Marty Rotter, Owner of Ventco. "To win a fourth consecutive Metal of Honor award means a lot to all of us."
ProfileVent, available in rolls of 20′, 50′, and 100′, is a single-layer ridge vent designed for metal roofs. It's a strong, durable modified polyester, non-woven, non-wicking, fiber-based matting, designed specifically for metal roofs. ProfileVent is specifically cut to fit more than 50 metal roofing profiles, more than any other ventilation system manufacturer.
Just over two years ago, Ventco relaunched its website at www.profilevent.com with a fresh, uncluttered design, improved navigation, and greater accessibility. Visitors to the new site see products better showcased with features and advantages highlighted in new ways. Content is now being freshened regularly to keep browsers updated on the latest happenings at Ventco.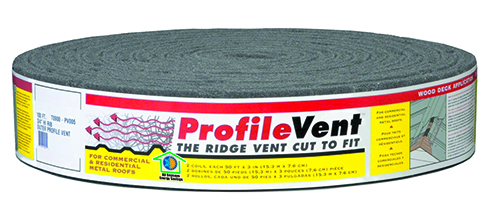 "We recognize our website is the easiest way for people to find us," Rotter said. "We have invested over $8 million in facilities and equipment at our 118-acre facility," said Rotter, the owner of more than 70 domestic and international patents and patents pending. "We're committed to providing ProfileVent and our other products to our loyal customers. Those roofers who haven't tried ProfileVent should give us a try. We believe they'll be pleasantly surprised with how well it works and how easy it is to work with.
"All of our highly skilled employees are cross-trained in all production activities. Our employees have from 18 to 35 years of experience working with non-woven products.
"ProfileVent is simple to install, and saves time and labor," Rotter added. "It fits under any ridge cap and with any pitch ranging from 2:12 to 20:12. It won't crack, dent, or rust during shipping or installation and, best of all, it can be rolled out and installed by one person.
About Ventco Inc.
Built on proven technology since 1986, Ventco produces ProfileVent, a revolutionary ventilation system for commercial and residential metal roofs. The specially designed equipment precisely cuts the panel profile into the surface. Working at optimum performance within varied roof pitches ranging from 2:12 to 20:12, ProfileVent is custom cut to fit the individual panel profile. ProfileVent's compatibility with a steep roof pitch makes it uniquely suitable for these applications. Maintain the ridge line appearance without the need to raise the ridge cap to accommodate the vent. For more information, visit www.profilevent.com or call 833.300.9515.
Metal of Honor Awards: 4  |  Website: www.profilevent.com  |  PHONE: 833-300-9515