By Dan Perkins
Our Beginning: Dan Perkins Construction started as a remodeling company in Massachusetts in 1986. A decade later, when I, Dan, and my wife Pam moved to Michigan, I changed the focus of my company to metal roofing. We settled in Ishpeming, Pam's hometown. The city is located in the heart of Michigan's Upper Peninsula (UP), the northernmost area of the state between Lake Michigan and Lake Superior. The UP holds a third of the state's land mass and a mere 3% of its population, yet yields most of its snow accumulation.
Awed by the effects of 200-300″ of snow on the buildings of the UP—everything from car-size ice dams to collapsed roof structures to the spectacle of people coming home from work and shoveling their roofs, I decided to focus my business on metal roofing with the idea that we could slide the loads off of the roofs before they became problematic.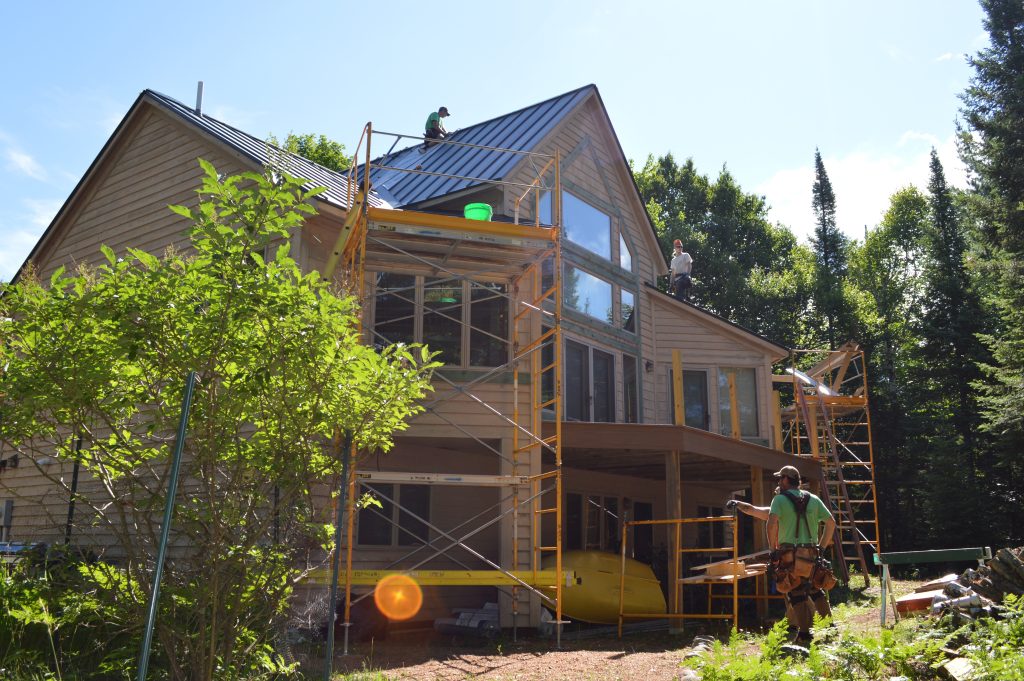 This was the beginning of an adventure that included instant success and many failures. Our promise of a roof that "slid snow" was wildly popular and within a year of offering this product, we had 30 employees, slapping down pole barn panels over asphalt roofs as fast as we could cover them. There were some issues. When other contractors saw us taking a big share of the roofing market, a bunch jumped in to compete. But the real challenge came when many of our roofs failed.
Growing Pains
It is an eye-opening experience to see what a 10-ton glacier of ice is capable of destroying as it slides down a roof, especially when that roof is 29-gauge pole barn panels. The first things to go are the vent stacks and power masts, which snap like toothpicks or tear right through the eaves. The steel panels on dormers can roll up like the top of a sardine can, skylights can shear right off, leaving living rooms full of sliding snow, and valley panels can tear like paper.
I will never forget the day I sat across from my banker explaining that I had to borrow about $100,000 to do repairs on my existing roofs. And explaining that I needed more money to go to a metal trade show with my crew to get them some training and to buy roll forming equipment to do these roofs properly. He kind of looked at me funny and said something about my debt-to-equity ratio, but somehow found a way to get us through this awkward stage of our growth. Bottom line is, we fixed our messes. We did not run away from the trade, as our competitors did when the technical challenges of this trade confronted us, and this left us as the only players in the metal roofing industry in the Upper Peninsula of Michigan and in a good portion of northeastern Wisconsin.
In the last 24 years, we have become exceptionally good at on-site metal roofing manufacturing and installation. We have learned how to move stacks to the peak, insulate, and ventilate roof structures to eliminate systemic ice problems, and make a myriad of blind fastened watertight roofing details. We have a solid culture in our crews that take great pride and accountability for our product, and we take incredibly good care of our customers.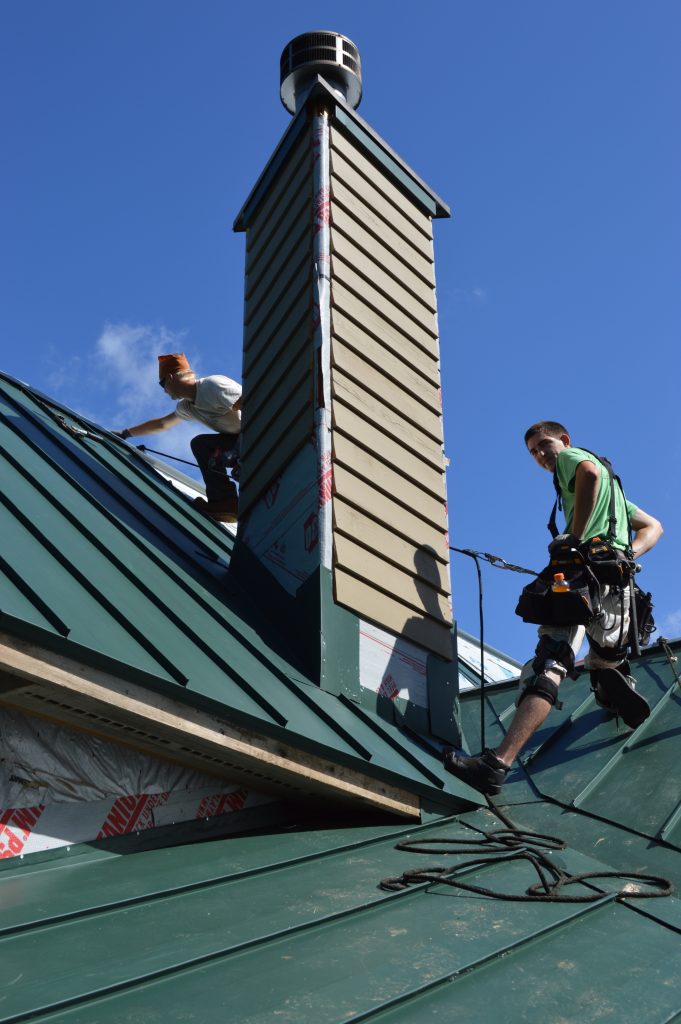 Metal Craftsmanship
As metal roofing contractors with an on-site roll forming machine, we are both manufacturers and craftsmen. We are not only accountable for the proper installation of the metal roof, but also for the proper fabrication of its components. This means knowing many things most roofers don't need to know, like how to calculate nominal air flow in your ridge venting and how to spot defects in your steel coil (such as wavy-edge, coil set, and micro-cracking in the paint). We have to assume all of the responsibilities that any product manufacturer typically carries, and it takes time to learn these skills. When installing the product that we have manufactured, we are also responsible for our details and their ability to defend the home from water, ice, and snow.
Over time, we have developed master craftsmen in this trade and they in turn are teaching the next generation of craftsmen what they have learned. Every year we put more emphasis on training so that our foremen can delegate more of the difficult work to crew members. A tear-off and ground clean-up guy is handy when you are doing that kind of work, but when the roof is going on, skilled craftsmen are required.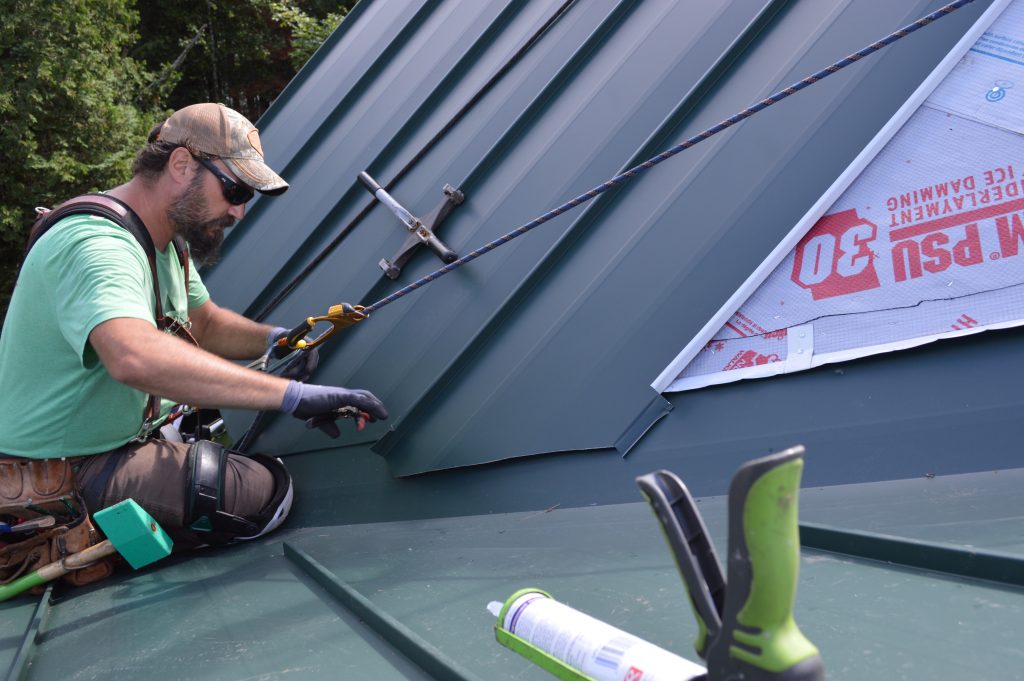 A Job in Presque Isle, Wisconsin
Recently we did a job on a small but highly designed home in Presque Isle, Wisconsin, that inspired us to submit this piece for Metal Roofing Magazine. My foreman, Matt Zumpf, noted that he had to use every detail in his library plus one that he had to invent specifically for this job. Here are some of our standard details that we utilized on this job:
Drip edge and vented ridge cap: All of our standard details are made from the same 20″ 24-gauge coil that we order for fabricating our roof panels. Our drip edge and ridge caps are made in our shop from 10′ blanks that we cut off a decoiler and feed through our shear and auto break. These pieces are carefully fit together on the job site as the panels are installed. Our ridge caps have seven components per section, including vented Z channels we make from 20-gauge perforated steel, baffles, and ¾" x 3″ ridge hair we get from Blocksom & Co. to keep wind-driven snow and rain out.
Panel Clips: We make our own from our scraps of 24-gauge steel. We have a hand clip bender from ESE Machines and a hand shear for cutting the blanks from Swenson Shear.
Valleys: We have always made our valleys from our roofing panels. This allows us to have a continuous valley with no seams. We make them to length, straighten the legs, and fold them in for a hem for the incoming panels. The panel is then bent down the center with a heavy site break to fit the contour of the valley it will inhabit. We always install our panels from the bottom upward and make a custom double male panel at the peak of the opposing valleys to tie everything together.
Custom Work
Our jobs are very fluid. Everything is made to order. On this specific job, we had four valleys that served as diagonal pitch breaks and fed over the panels below. Zumpf designed a custom detail for this so that the valley was traditional on one side but had a reverse hem on the other side and could be cleated over the panels below. He lined up the panel ribs, which made the panels sit on a 45-degree angle to the plane, yet will allow the snow to shed in a continuous trajectory.
The beauty of this trade is the versatility and Old World craftsmanship that's possible when the crew develops its skills. We have been doing this work for 24 years now and we think we are good. There is always more to learn and there are always new people to train, and we are proud of our trade and what we represent to the American workforce. MR
---