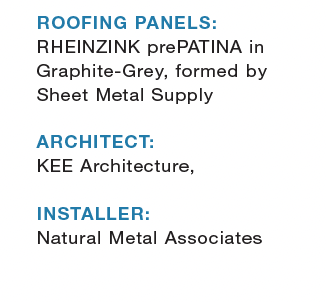 This unique boathouse in northern Wisconsin, near Manitowish Waters, was designed to blend into its surroundings. The combination of metal roofing with walls constructed of metal, wood, and plaster makes for an almost indestructible storage facility.
"We really wanted this structure to go away from a distance and be a pleasant surprise as you got closer," said architect Douglas Kozel. "The color, texture, and material helped with that. It's supposed to be a modest structure despite the great amount of detail."
Kozel said metal roofing was chosen for this project to allow for the shedding of snow and other debris, such as leaves and pine needles. Several unique roofing details required the finesse of a crew who knows how to get metal to perform exactly the way the crew needs. Lou Rondeau, Owner of Natural Metal Associates of Mont Vernon, New Hampshire, journeyed to Wisconsin with his team, who were on the job for about six weeks installing the roof.
The zinc specified for the roofing panels and trim came in prePATINA Graphite-Grey from RHEINZINK, supplied and fabricated by Sheet Metal Supply of Mundelein, Illinois. Natural Metal Associates installed 2,282 square feet of mechanical lock standing seam, 773 square feet of radiused mechanical-lock standing seam, and 1,235 linear feet of flashing material. 
Sheet Metal Supply — www.sheetmetalsupplyltd.com