We take pride in our thorough color research and expertise. Design and color specialists across the company use trends to produce colors and finishes that meet customer needs in all our markets. We're seeing a trend in exterior architectural coatings toward pearlescent matte finishes, bright metallics, and special textures such as frost or wrinkles.
Another trend we are seeing is digitalization of product offerings, as well as digital visualization of colors and textures. AkzoNobel is responding to the needs of architects and specifiers to have an easy-to-use coatings offer and visualization at their fingertips via digital platforms. Our Canopy app helps customers not only see colors, but also experience textures and shadows through 3D visualization.
Direct Metals Inc. (www.directmetalsinc.com)
Although business started out a little slow in 2020 and despite the impact of COVID-19, the second half of the year came in strong, allowing Direct Metals Inc. to eclipse our yearly goal by more than 15%. We expect 2021 to be strong for residential construction due to increased demand and low interest rates, though we do expect challenges with the continued impact of COVID-19 and material and labor shortages.
Our biggest concern for 2021 is the timely supply of raw materials. We're working diligently to increase stocking positions in all accessories used in residential and commercial construction to avoid shortages of our own. However, we have heard from our customers that the availability of steel coil to manufacture metal roofing has become an issue as we move into 2021.
Product-wise, we expanded our line of SCAMP Stainless Cap and Metal Point fasteners to meet the needs of 40- and 50-year warrantied residential metal roofing installations. And our Bullet Boot Pipe Flashings for residential roofing applications continue to have exponential growth as the residential roofing market continues to grow.
EDCO Products (www.edcoproducts.com)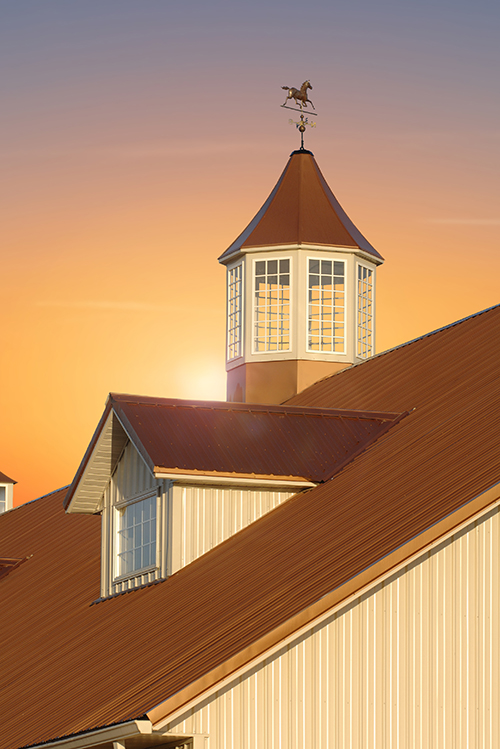 As a whole, metal roofing continues to be a growing choice for home and business owners. Consumers want exterior building products that require very little maintenance and will last for many years, and we do not see this changing anytime soon. With the development of new styles and coating technologies, metal roofs are going to continue to gain in popularity.
We are constantly researching which colors are trending with home and business owners for all exterior building products. In roofing, darker colors continue to remain very popular in earthy tones, including grays and browns. As a company, we are constantly working on the next new product innovation and color palette and you can be sure our product pipeline is full!
Despite early concerns, 2020 turned out to be a great year for EDCO, as consumers, who were spending significantly more time at home, put energy into improving the look of their residence. We experienced growth across the entire company and our metal roofing continued to be on the top of consumers' lists of desired roofing products.
MWI Components (www.mwicomponents.com)
What could have been a terrible year for our industry turned into an extremely busy year at MWI. Overall, we're truly blessed. One thing we noticed in 2020 is: Time savings is key. Products to simplify processes and speed up builds are invaluable in today's workforce. Continuing to engineer innovative, new products geared toward this mindset will be important to stay relevant.
We've seen an increase in requests for dramatic, large cupolas: 48″ and 66″ Square, and 48″ and 84″ Octagon. We're seeing more cupolas with windows—classing up projects. We're also seeing more cupolas ordered with Universal Bases, which saves time on-site. Black was the leading color trend in our cupolas over the last 1 to 2 years. Along with this, full-on Galvalume®/galvanized or monochromatic color schemes seem to have had an uptick in popularity.
PAC-CLAD | Petersen Aluminum (www.pac-clad.com)
According to Rob Heselbarth, Director of Communications, "Interest in Petersen's PAC-CLAD products was healthy throughout 2020. We're grateful that our customers remained relatively busy, despite the pandemic. Our mechanically seamed roof panel systems were the most commonly specified PAC-CLAD products of the year. The needs of buildings located in high-wind zones drove demand for these wind-resistant products. Demand also increased in the Western states for metal roofs, partially driven by the devastation created by the numerous wildfires and the fire-resistant qualities of metal roof systems.
"Because color popularity varies from region to region across the country, it's difficult to identify one color as the most popular, but grays and black dominated color choices in 2020, followed closely by shades of blue. We also introduced 16 Wood Grain PVDF color patterns this year, which we expect to be applied mostly to wall panels. The realistic wood grain patterns are difficult to distinguish from real wood, and are proving popular only a few months after their introduction."
Plyco Corporation (www.plyco.com)
We owe a tremendous thank-you to our customers (and suppliers). As crazy as the year was, their patience, partnership, and demand made 2020 better than anyone would have expected when the year started and the pandemic hit. The silver lining for Plyco is we are stronger as an organization because of what we all had to go through. Now at the start of 2021, there is some "normalcy" in our operations. We do have concerns and questions in the short term about various material availability and supply and corresponding costs, but that won't stop us from being optimistic about the new year.
Regarding color trends, Plyco has always had a large selection of stock colors and we also paint special colors, so we are used to demands changing from year to year. But using black and gray monochromatic colors as part of the product (if not for all of it) seems to be a hot trend for many post-frame products.
PPG Coil Coatings (www.ppgmetalcoatings.com)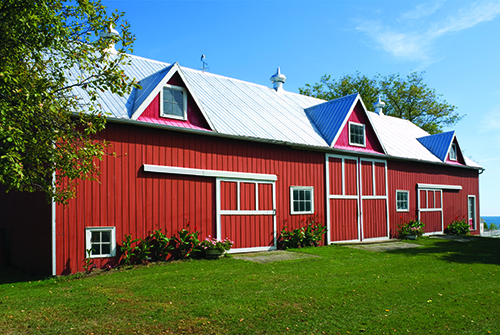 PPG works with builders, designers, and architects to identify our 2021 roofing color palettes that complement our architectural exterior colors and reflect the trends we are seeing across the industry. We offer customized color matching, so we are constantly offering new and exciting colors based on demand.
If we look at the current trend of simplicity, we see interest in modern neutrals and paring down the number of colors used in the full home color scheme to reduce visual clutter. Classic, yet modern colors for the exterior body and metal roof include clean whites, inky blacks, smoky grays, concrete grays, and beige grays. These tried-and-true colors can be used as one colorway from roof to body, creating a seamless, simplistic design that embraces current trends. One of the stunning examples we see more and more in residential homes, borrowed from urban builds, is inky black being used on both the body and roof of the house. It sounds like it could be too severe, but it's not. It's quiet and unimposing, especially if the house is on a lot with many trees and lots of nature surrounding it.
According to S-5! Founder and CEO Rob Haddock, "2020 was a phenomenal year for S-5! We are in the process of a significant expansion at our state-of-the art manufacturing facility in Iowa Park, Texas. During the COVID-19 pandemic, we have had no layoffs, no furloughs, and have added staff. S-5! continues to grow and expand and remains future-forward-thinking, focused on constant development, improvement, and growth."
Greg Cowlishaw, Director of Sales for S-5!, commented, "There is a trend upward of continuous fence [snow retention] systems like ColorGard being installed on exposed fastened roofs versus the unitized type parts." We surveyed a couple of our key distributors on the most popular colors of ColorGard, and we are hearing that earth tones are hot. According to Adam Mazzella with Sheffield Metals, "Dark colors are 'in' right now. Matte Black used to be one of our slower moving colors 10 years ago." And Ken McLauchlan of Drexel Metals shared, "The Colorado market has definitely leaned to Black, Dark Gray, and Dark Green for ColorGard."