When purchasing this home in Austin, Texas, the new owners knew a re-roofing project was in order. The previous roof was a concrete tile Spanish barrel roof, which suffered from cracked and moldy tiles as well as multiple spots where the roof leaked. The new owners also knew the choice replacement for the previous roof would be a more permanent and more modern appearing metal roof.
Given that the roof is largely visible from the backyard pool area, the color and style of roof panels were important. While the owners initially preferred flat-style panels, roofing contractor Green Knight® Metal Roofing [www.greenknight.com] explained the poten­tial risks involving oil-canning and demonstrated this risk by installing a few flat panels next to the striated panels. This led the owners to choose striated panels in black-ore matte.
Another item of discussion involved the gutters. With the owners preferring something different from the look of aluminum K-style gutters, the roofing contractors fabricated and installed custom box gutters out of the same material to achieve the preferred modern appearance.
The Green Knight® Metal Roofing team completed the new roof installation across the 8,000 square foot structure in about two weeks.
Project Overview
Location: Austin, TX
Building size: 8,000 square feet
Roofing Contractor and Installer: Green Knight® Metal Roofing
Products Used
Manufacturer/Supplier: Western States Metal Roofing
Coil Color: Black Ore Matte
Roof Profile: Black Ore Matte Snap-Lock Standing Seam Metal Roof with 12" Striated Panels
Snow and Rain Management: Custom Box Gutters
Underlayment: Viking
Other: Panels Rolled On-Site with a Zimmerman Metals Roll Former
by Green Knight® Metal Roofing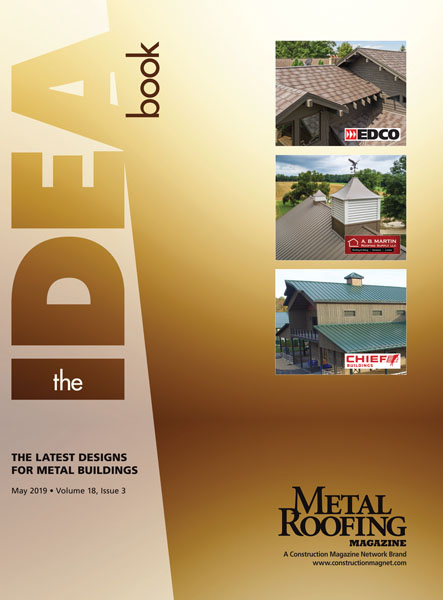 ---
Got Roofs?
If you have a project that you think should be published, download and complete the Metal Roofing Magazine project form.
It's a great way to promote your business (or products) … and participation is free!
Take the first step to getting your project published in the Metal Roofing Magazine Idea Book …