It's no secret that metal roofing delivers advanced durability and weatherability to protect homes for longer periods of time. Historically, the metal roof estimating process for contractors was time-consuming, complex, and uncertain. With the Sherwin-Williams Roofing Passport, this uncertainty is eliminated by simplifying the process for metal roof estimating, yielding quick and efficient results.
What is the Roofing Passport? Built specifically for the residential metal re-roofing market, this groundbreaking platform simplifies metal roof estimation and ordering. As a fully automated program, the digital platform enables project estimation in one click—transforming your contractor's roofing business.
A Straightforward Estimating Process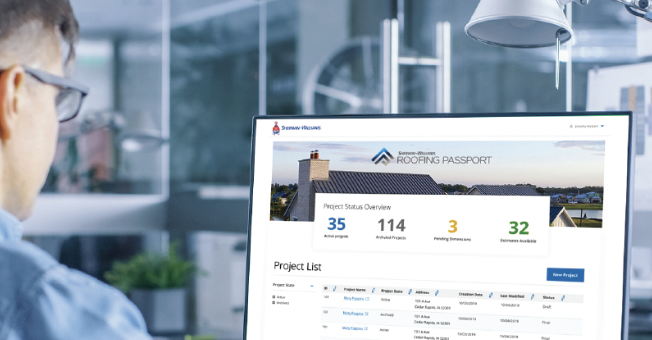 The Sherwin-Williams Roofing Passport integrates seamlessly with EagleView, provider of aerial property measurements; SmartBuild's building application software; and Sherwin-Williams Coil Coatings. The Roofing Passport creates a powerful link between EagleView's highly accurate roof measurements and SmartBuild's automated estimation software, 
creating an easy-to-use bidding platform.
The Sherwin-Williams Roofing Passport allows contractors to easily "click, bid, and win" metal roofing business by connecting EagleView's aerial roof imagery and the automated SmartBuild building application software with Sherwin-Williams Coil Coatings. With this digital platform, you can order a property measurement, gather the required metal roof takeoff data for a lead, and engage a roofing manufacturer—all in one click. This simplified metal roof estimation and ordering process improves measurement accuracy, eliminates the need to manually measure before submitting an estimate, and saves time and resources—increasing profitability.
Roofing Passport Features
1. Quick and Easy Setup: Contact your metal manufacturer to get approved and initiated into the Sherwin-Williams Roofing Passport process. Alternatively, contact Sherwin-Williams Coil Coatings directly and they will connect you with an approved metal manufacturer (no software license required).
2. Capitalize on New Leads: When a roofing team receives a metal roof lead, they can go to the Roofing Passport to begin the estimation process.
3. Enter the Address: Through the Roofing Passport, contractors initiate a metal roof estimate by entering an address and submitting the request.
4. Receive an Aerial Report: Within hours, EagleView provides the roofing takeoff of the requested address. Users will receive an email when the information is ready for review.
5. Review Material Takeoff and Create the Bid: Roof measurements from EagleView are used by SmartBuild to populate a 3D model, generate a bill of materials, labor, pricing, panel layouts, and final bid sheets and, most importantly, allow users to control their profits.
6. Talk to the Property Owner and Send the Bid: Contractors send automatically generated bid sheets over to customers for them to review.
7. Close the Loop With the Manufacturer: Once the customer accepts a bid, contractors need to work with the metal roofing manufacturer to understand their requirements, make necessary updates, and send the material list order to the manufacturer. MR