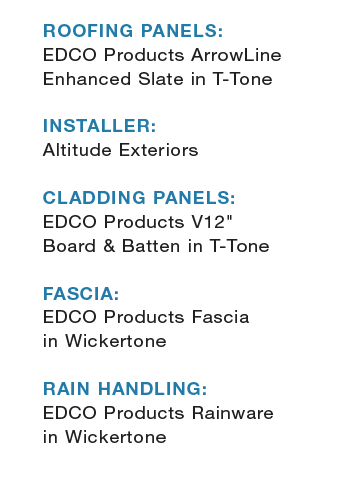 The Heckrodt Wetland Reserve is a 76-acre urban oasis that includes three miles of trails through forested wetlands, prairie, and open fields. A 4,000-square-foot nature center on the grounds is available to visitors. The center is home to an indoor live wetland, aquariums, and mounted Wisconsin mammals. Additionally, it features a classroom amphitheater, solarium, and a resource library. The reserve is located in Menasha, Wisconsin.
With the extreme weather changes in Wisconsin, the existing building faced roof and siding issues. Over time, the wood shake siding began to deteriorate. Additionally, the asphalt roof started to leak. Heckrodt's site manager began to look for more durable products that would possibly match their mission of enhancing, restoring, and preserving the reserve. 
After researching many different product types, they reached out to EDCO Products. The team at EDCO provided information about their metal roofing and siding. EDCO worked to educate them about the many benefits of metal siding and roofing and introduced them to the team at Altitude Exteriors.
Utilizing EDCO's metal exterior building products allowed for the coordination of colors throughout the project. The project presented several challenges including a number of valleys and roof pitches. Energy efficiency, low maintenance, and a lifetime warranty are just a few of the benefits that made EDCO's metal exterior building products stand out when comparing them against other material types. 
EDCO Products — www.edcoproducts.com