Located just north of the Iowa border, the southern Minnesota city of Austin is the base for the headquarters of Hormel Foods, manufacturer of – among many other brands – SPAM canned meat. Austin's latest attraction is devoted to its residents; the new Austin Community Rec Center offers locals an indoor playground, youth center and a relocated YMCA. It features a forward-looking, curvilinear design called out by standing-seam metal panels that wrap around the two most visible elevations.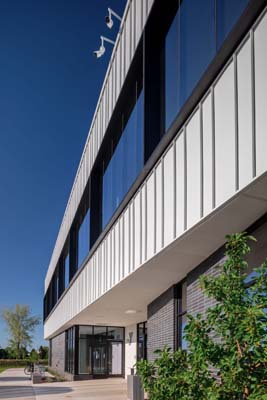 St. Paul-based BWBR led the design for the new facility. Shida Du, AIA, design leader with the firm, notes the importance of the site's location alongside the Cedar River in developing the building plan. "The building massing reacts to the riverside topography with a horizontal expression," he says. "The design of both the interior and exterior of the building creates a dynamic composition of transparency, daylight and colors in order to make a place that serves the well-being of the community."
   The materials palette for the exterior includes brick in a dark manganese finish and precast concrete panels along with PAC-CLAD metal panels from Petersen, which take a leading role in defining the building's signature appearance. Interestingly, designers opted for standing seam panels more commonly used in roofing applications, instead of, say, a more clean-lined wall panel. The panels are installed vertically to emphasize height and provide greater visual interest.
"It is an intentional choice to highlight the volume of the second-floor gym and the racetrack that surrounds it," he says. "The white color provides an energizing contrast to the charcoal-colored brick and precast, while the standing seam at the panel joints provide shadow lines that add subtle texture to the façade."
Du's team turned to Petersen to supply the panels, which were ordered in three widths to increase the sense of texture in their plans. In all, 7,083 sq. ft. of Petersen's Snap-Clad panels in a bone white finish were ordered, in 10-, 12- and 16-in. on-center widths, all in .040-gauge aluminum. An additional 250 sq. ft. of the company's Flush panels were specified as cladding for the rooftop mechanical penthouse.
   Mankato, Minnesota-based Schwickert's Tecta America provided installation services for the project. Project manager Tim Sinclair says the job was pretty straightforward for his team, though some added attention was required to ensure the varying widths lined up as designed. MR
By Metal Roofing Staff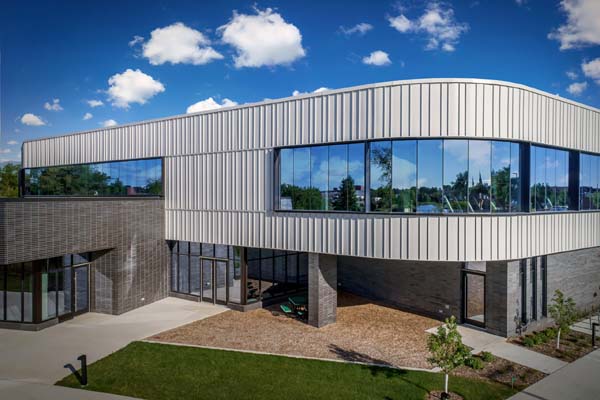 Project Overview
Location:Austin, Minnesota
Wall Panels: Petersen PAC-CLAD Snap-Clad Panels 
Panel Gauge and Substrate: .040-gauge aluminum, 10", 12", and 16" widths
Roof Panels: Petersen PAC-CLAD Flush Panels, aluminum, 250 sq. ft.
Installer: Schwickert's Tecta America, Mankato, Minnesota
Architect: Shida Du, AIA, BWBR, St. Paul, Minnesota
---