By Kenneth P. Lambert, Jr.
Matt Burkholder had an idea that he knew would help his customers. He sought advice, asked around, and was told, "It's not possible!" Not to be discouraged, he pursued solutions and with the help of trusted partners, he developed an innovative approach that his peers would soon emulate. Perseverance, problem-solving, and partner relationships led to a success that would ultimately benefit his customers. These are the strengths upon which his company, Premier Roofing and Construction is built.
Matt launched Premier Roofing and Construction in 2011 after his employer decided to downsize. Anyone who has found themselves in this situation knows what a challenge it can be. Matt saw this challenge as an opportunity. "Jobs were plentiful in our area, but I wanted to stick in the industry I'd been in for ten years," says Matt. So, he started Premier Roofing and Construction, based in Nappanee, Indiana, as a post-frame builder and roofing contractor. "It was tough," explains Matt, "It was a fun experience, but those first six months, getting those first jobs lined up was pretty stressful." Prospective customers are often skeptical of new, unproven companies. Fortunately in northern Indiana, the construction industry was strong. There were many established firms who were fully booked, and the excess demand opened opportunities for Matt's company. Once his fledgling firm had a few successful jobs under their belts, and some positive customer relationships, it became easier to land subsequent jobs. "It was all word of mouth," says Matt.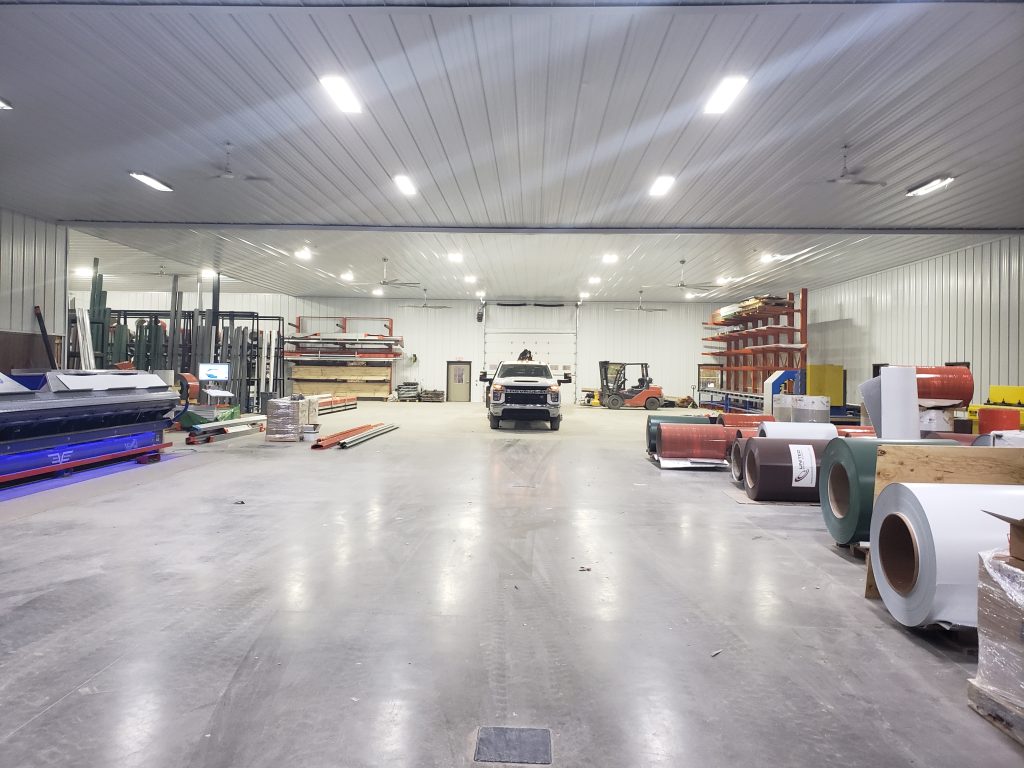 Company Growth
As the company grew, they did more and more metal roofing, so Matt decided to purchase their first rollformer, a New Tech SSH. He and his team did a lot of research and concluded that New Tech Machinery provided the most user-friendly and advanced standing seam rollformers. "For a small guy it was a pretty hefty investment, but in the long run, it definitely paid off," says Matt. Making their own panels made the company more price competitive, while giving them immediate access to materials when they needed them.
These new capabilities led to an even tighter focus on metal roofing. Matt set his sights on adding more capabilities, specifically the ability to produce panels right on the job site. He had seen open-air trailer-mounted rollformers on job sites, and was aware of the drawbacks to that arrangement. The equipment was exposed to the weather. "One thing I always noticed… there was dust in the machines, so periodically you'd get scratches… you'd get flaws in the panels, you'd have to throw the panels away." He knew his customers, who were investing in his product and trusting his quality, would not stand for flawed panels. But, he saw a solution: designing an enclosed trailer for his mobile rollforming equipment.
"I spoke to several people about having an enclosed trailer and everybody said it's not possible." It was believed that side-loading heavy coils of material simply could not be done. Opening large side doors to accommodate coils that weigh two- to three-thousand pounds would destroy the structural integrity of the trailer. But Matt believed this was a challenge that could be overcome. He worked with inTech Trailers who helped him design an enclosed trailer that had the capability he needed. The first enclosed rollforming trailer rolled into service in 2012.
Matt had invested time and money, and had developed an innovative product that benefitted his customers. Premier Roofing now has four of these mobile units. In addition to supporting their own projects, they also supply roofing panels to other companies. At first, Premier brought their enclosed mobile units to job sites and would produce panels on the spot for other contractors. These days, they provide the trailer, stocked with trims and everything needed for a job, and the contractor runs their own panels at the job site. Once the job is complete, the contractor simply brings the trailer back. They also produce panels in their shop, shipping the product to job sites primarily in the Midwest, but sometimes as far away as the West Coast.
Matt's innovative mindset also came into play as he and his team developed a user-friendly trim system. He noticed that some of his contractor customers shied away from standing seam roofing because it seemed too complicated. So, his valued long-term employees invested time in the shop and in the field experimenting with different techniques. Over time, they devised a user-friendly, easy-to-install trim system. This system not only helps their contractor customers by making their jobs easier, but also the end-users, by helping eliminate some recurring issues his team had experienced with the traditional system.
Relationships Make the World Go Round
The importance of relationships, in Matt's view, is crucial not only in securing new customers and retaining skilled employees, but also in finding trusted suppliers. Premier Roofing runs 22ga, 24ga, 26ga and 28ga steel, and they purchase the majority of their steel coils from United Steel and Coated Metals Group. When Matt first started rollforming roofing panels, he tried a variety of sources. "It didn't take us long to notice the difference in steel," he says. Some steel would run better than others. Some was softer, and some would produce wavy panels. Understanding the high expectations of his customers, Matt decided to go with material that consistently yielded the highest-quality product. Matt suggests, "If you are looking to enter the rollforming business, find a long-standing reputable steel supplier. Quality materials will never disappoint."
The same goes for equipment dealers. Matt expresses his appreciation for dealers such as Guttermaster and CIDAN Machinery. In approximately eleven years of working with these partners, Matt has experienced very few issues, excellent product, and excellent service. As Matt tells it, "If we have equipment break down, we don't want to wait three days for an answer. Your equipment is only as good as your service."
Premier Roofing uses coatings by Kynar and Sherwin Williams Weather XL. They use standing seam fasteners from Direct Metals (DMI), and exposed fasteners from DMI and Atlas. These choices also are based largely upon the level of service. "There are a lot of good fastener companies out there," says Matt. They have great products, but their fast turnaround and great service made the difference. "Quality and service is the most important part of any business relationship we have."
"As we grew," says Matt, "we did more and more metal. In 2013 we added a second New Tech SSQ and a used Jorns 21' folder. In 2015 we added a third New Tech. In 2016 we moved to our current location and purchased a Hershey Variobend and a CIDAN cut-to-length slit line. Demand from contractors continued to grow and this spring we added 12,000 sq. ft to our shop and put in an MRS Titan 36" exposed fastener panel line."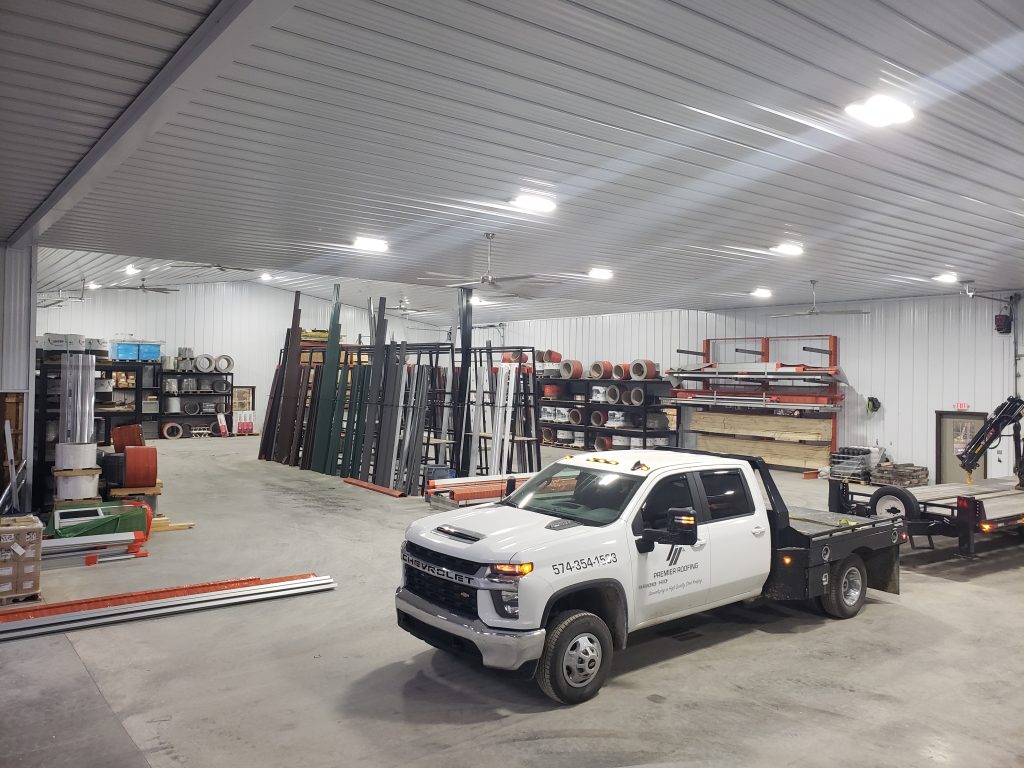 Business Philosophy
Clearly, Matt is not one to shy away from a challenge. He leads Premier Roofing with the courage to try new approaches, he trusts his team, and focuses on what is best for his customers. Matt is happy with the size of his company. He currently employs eight shop and field personnel, but his extended team includes folks who work for him as subcontractors. "I like the size we are at and don't have plans for growth," he explains. Rather, he sees opportunities for greater efficiency and plans to invest in equipment that will help achieve those efficiencies.
Reflecting on recent and future challenges, Matt notes that there has been improvement in lead times for material as well as steel prices. He hopes that these trends will continue. Considering recent concerns about economic slowdown, Matt recognizes that there is a likelihood that his business will be affected, but he remains optimistic that this will not be a drastic downturn.
"Starting out, we never imagined we'd get to where we are," says Matt, "God has richly blessed us and our employees are phenomenal. They have been a huge part in making our business successful." An equal factor in Premier's success has been the company's strong customer-focused outlook. Matt emphasizes the importance of taking time with the details and focusing on the finer points that customers appreciate. This sets Premier Roofing apart from the competition, and their customers have understandably high expectations. They do not want to hire a company that will simply install a roof as quickly as possible, but rather one that approaches the project with an attention to detail.
Matt advises, "Always deal with customers with the mindset that they are right and put your best quality in the project." MR