Tired of the roofing rat race? Try Larry Krause's trade. Sure, he's spent hundreds of hours over the past 38 years dangling from ropes hundreds of feet off the ground. His jobs often don't amount to more than a few dozen squares. But his clients are a select group who pay on time, who network like crazy, and whose buildings are constantly admired from afar.
Church Steeple Restorers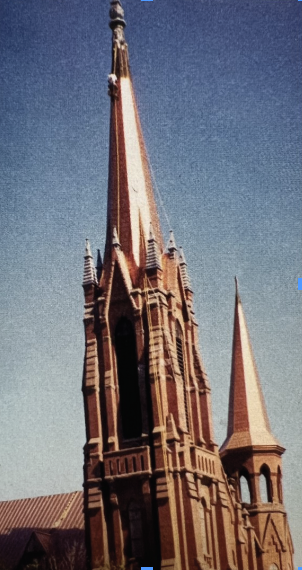 Larry is the founder and owner of Krause Konstruction Inc., based in the town of Stoddard, Wisconsin, near the Minnesota border. The business fills a unique and profitable niche in the roofing industry — church steeple remodeling and restoration. His consistently high-quality work and solid reputation have made him one of the upper Midwest's most sought-after roofers, booked for months in advance.
Steepling usually means working with copper, and on steeples that means shingles, since steeplejacking and long panels don't go well together. Krause exclusively uses the Chateau Slate shingles, manufactured by Classic Products, Inc. of Piqua, Ohio. Chateau Slate comes in 16-oz. copper and in Kynar-coated aluminum or steel, and features an interlocking design and straightforward installation. "I've done this for 38 years and even the 28 years I've been in business, it's the best product I've found to put on steeples."
On the rest of the roof, Krause uses a variety of materials, but still tries to push copper. The company has its own standing seam roll-forming machine, so when the need arises, Krause simply buys rolls of copper from Copper Sales, Inc. of Minneapolis and fashions panels on site. Copper usually isn't a hard sell for churches. "For the most part, the churches really want to go with copper, says Larry's 27-year-old son Jason.
Steeple work is very labor intensive, "so you might as well go with a product that we know is going to last 100 to 120 years. Larry actually charges a little bit less for labor when the project involves copper as opposed to a project in which aluminum is installed. The reason: "If you make a mistake with an aluminum shingle, you throw it away. For the most part, if you make a little mistake with copper shingle or a copper roof, you put in little pieces and patch it together and solder it in."
We push copper by far more than aluminum, ten to one."
The Process
The first step in a typical steeple job, after estimating, is to check the structure's base. Old steeples often have rotten corners, and Krause has seen steeples fall — thankfully without injuring anyone. One rotten corner he'll repair; two or more is questionable. Several times he's built steeples from scratch, roofed them on the ground, then lifted them into place with a crane.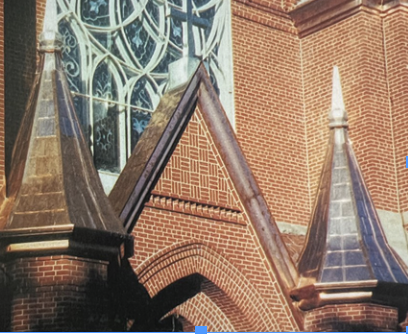 If the structure passes muster, ropes are then set up. Sometimes this involves his 150-ft. crane. Other times his workers get access from inside and punch a hole in the steeple to secure a block and tackle. Ladders are installed as needed, and a bosun chair is set up for the roofer's comfort. "You can sit in them for hours," says Larry.
Krause always strips his steeples of old material, whether shingles, shakes, slate, or asbestos tiles — his company is certified for asbestos work. He fixes rot- ten deck areas, then decks everything in Grace Ice & Water Shield before installing the Chateau Slate Shingles.
Steeples usually have lightning rods, with long wires running down the outside of the roof, and these must be carefully disconnected and reconnected. Krause consults with Thompson Lightning Rod Equipment in St. Paul, Minnesota, on every job, but his company handles the work of reinstalling the devices. 
Larry Krause
Krause began his career at age 16, working for a German company that specialized in church refurbishment. He learned tuck-pointing (brick and mor- tar repair) and roofed in slate, tile, and metal. Particularly valuable were the Old World metal folding and soldering techniques often avoided by American roofers.
After ten years of working on steeples and churches across the Midwest, Larry left to form his own company. Since grossing $80,000 in its first year, Krause Konstruction has grown to a nearly $1.5 million-per-year business, with an additional $3 million in work already booked through next summer [2003].
Krause employs 12-15 workers, including son Jason, who began with the company at age 14. The company has a very low turnover rate, and has been able to keep some employees for more than 25 years. The key to finding the right employees for steeple work, says Larry, is to "take them as young kids with no fear. You gotta teach them young when there's no fright there."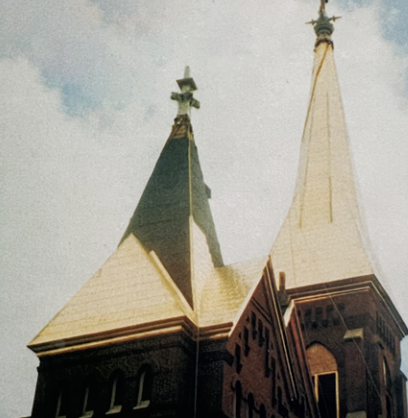 But he never pushes employees to go up top. "We take new people and set up the chair a few feet off the ground, let them play around as long as they want. Eventually they want to do it."
Krause Konstruction has no web site and does no advertising; business comes in entirely through word-of-mouth testimonials. And the clergy, it seems, are a talkative bunch. Larry has made it a point to get to know nearly every cleric within a 300-mile radius. "We turn down as much work as we do, says Krause. "If we could find the help, we could double our business overnight. It hurts when you have to turn down jobs."
[They now can be found online at http://www.krausekonstruction.com] MR