By Rheinzink
Architectural-grade zinc products are often used for roofs on historical building projects because they offer a modern, high-performance metal material with an enduring legacy. Zinc roofing has been used for centuries. Contemporary roofing applications with zinc roofing materials have a lifespan of 80 years or more.
The very first known application of zinc as a roofing material is in 1811 for the Saint Barthélémey church in Liège, Belgium. However, some of the most notable influences on zinc as a building material are those from France.
In the mid-19th century, the City of Paris experienced a major growth in population. Napoleon III commissioned Georges-Eugène Haussmann to plan a large-scale renovation of Paris. Zinc was selected for the roofs of the new buildings being built and became the representative material of modern architecture for the era. Today, many mansard roofs made of zinc continue to dominate the city's skyline.
This new architectural style reached many other countries in the years that followed, including the Netherlands. Villas, hotels and public buildings are now covered with zinc roofs in many cities such as The Hague or Amsterdam.
Zinc's Place in Historic Renovations
In the U.S., a property needs to be at least 50 years old to be eligible for listing in the National Register of Historic Places. Fifty years ago, in 1972, roofs across North America were largely clad in asbestos and asphalt shingles. Metal roof coatings contained lead, such as coated copper or old terne-coated metal.
When builders renovate historic buildings, zinc is often chosen; it is known to be a dense material that is easy to form, cut and fabricate. Though pure zinc is somewhat brittle and works best as a building material when alloyed with small amounts of titanium and copper.
Zinc is also an historically accurate and natural metal; when a zinc roofing system is installed properly it resists air and water infiltration. For regions with high winds and hurricane conditions, these roofs have been tested to withstand high winds as required by codes and local jurisdictions. In environments susceptible to fires, zinc provides a non-combustible solution. The inherent metallic properties deliver low-maintenance, long-lasting roofing applications.
Architectural zinc can be shaped into a multitude of forms – geometric, organic or curves for innumerable design options. It's customizable to meet a project's individual specifications. For more budget-conscious projects, specifying standard panel sizes and shapes helps reduce manufacturing and fabrication costs, plus time and expenses associated with installation labor.
Beautiful Coloration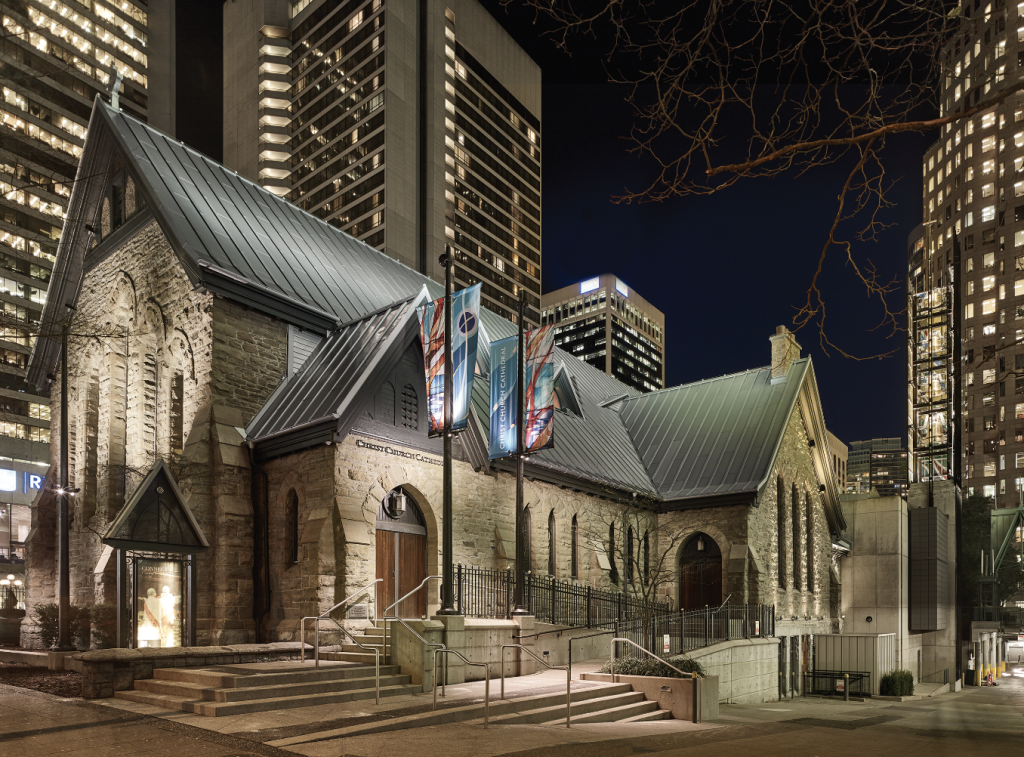 Most architects and specification professionals select zinc for its future patina appearance. Like copper, zinc develops its distinctive patina, or surface crust, based on the alloy composition and local environmental conditions.
This patina develops through a two-step chemical reaction. First, zinc combines with water and oxygen to form zinc hydroxide, then with carbon dioxide in free-flowing air, the zinc generates a protective, dense outer layer insoluble to water and an inner layer of alkaline zinc carbonate.
A patina's formation is a process of the gradual growing together of zinc carbonate "freckles" and the rate of its formation is related to the slope of the surface. The patination will be slower on a vertical roof surface than on a slightly sloped one. Its speed can vary between six months and five years or more, depending on climatic conditions. The more exposure to wetting and drying cycles, the quicker the patina will develop.
After the true patina has fully formed, the process will slow down but it never stops. The natural patina will form to a soft blue-grey or graphite-grey color, depending on the alloy type. To achieve this vintage look at the time of installation, some architectural zinc manufacturers can accelerate the patination process under factory-controlled conditions before the material is fabricated into roofing.
Throughout its long lifetime, the zinc material's patina is influenced by the project location's unique climate and conditions. While the basis of the patina is alkaline zinc carbonate, additional substances are incorporated from the local humidity, rainfall, snowfall and air pollution levels. Therefore, the color of the patina can vary from one place to another. The natural patina will appear lighter when used in marine locations where the air contains chlorides. When used in environments where sulfur levels are higher, the patina may appear somewhat darker.
Environmentally Friendly
Energy-efficient, low-emission production is part of what makes zinc roofing ecologically friendly. As little as one-quarter to one-third of the energy is needed to produce architectural zinc alloys in comparison to other metals such as stainless steel, copper and aluminum. This is because of zinc's low melting point and its malleability to shape. Emissions during smelting and processing can be minimized through state-of-the-art production equipment. In the highest quality manufacturing companies, pre-consumer scraps are 100% recycled. At the end of a roof's life, the zinc is 100% recyclable.
Zinc's natural abundance, resiliency, recyclability and longevity also are recognized attributes in meeting criteria of green building programs such as the U.S. Green Building Council's LEED® rating systems. Always check that a zinc material's EPDs (environmental product declaration) are third-party verified.
Re-Roofing & Heritage Preservation: a Case Study by RHEINZINK
The re-roof project at the historic Christ Church Cathedral in Vancouver, British Columbia, marked the culmination of a massive four-phase, 22-year renovation plan. The Cathedral—built originally in 1894—was the first church in Vancouver and began with a cedar shake roof. Through the years, various additions and modifications were undertaken, but none contributed significantly to the historic structure's long-term sustainability.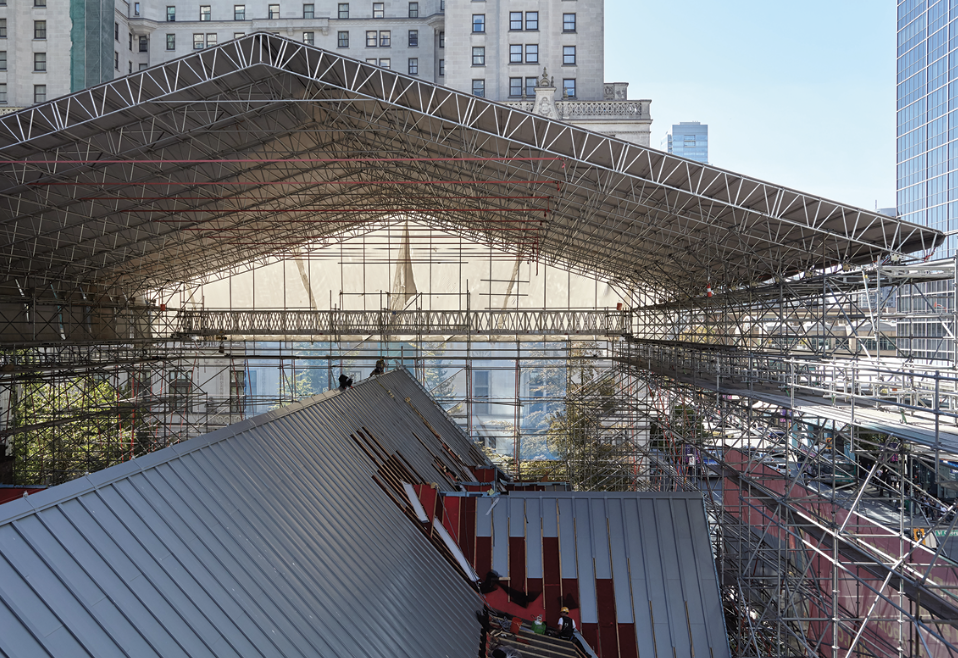 A formal plan was undertaken to make the Cathedral structurally sound and to meet seismic stabilization requirements. Aesthetic and acoustical upgrades, along with basic functional improvements, also were included in the multi-phase plan.
The final stage of the extensive renovation, the roof replacement, became somewhat of a modern marvel in Vancouver. The entire building was completely enclosed in a massive scaffold with a giant tarpaulin covering the structure to protect the church from the weather as the existing roof was removed. The scaffolding reached 100 feet high to allow the use of a traveling gantry crane for moving materials to all areas of the roof.
Approximately 12,000 square feet of RHEINZINK-prePATINA® blue-grey was installed using a traditional batten seam profile. Installation of the panels was done by TEK Roofing Ltd. of Vancouver. "I'm an old school guy and everything we do is traditional," said president Terry Kellogg. "Our panels are literally all hand formed. No machines were involved other than our breaks."
The roofing crew ranged from 10 to 20 individuals depending on the work being done. Kellogg worked alongside his crew for much of the job. "I spent nearly two months on the tools working with the boys," Kellogg said. "It was quite enjoyable." TEK Roofing specializes in the fabrication and installation of natural metals.
Re-roofing Challenges
A major issue that had to be resolved before the new zinc roof could be installed was achieving a level and true substrate. During the many years since it was originally built, the structure had settled and shifted considerably. The construction methods employed more than a century ago were not nearly as exact as those used today.
"We were surprised at how bad the structure was when we opened the building up," said Ian Birtwell, a parishioner and volunteer project manager who functioned as liaison with the church. "The connections to walls were very poor, basically gravity connections. That's the way they built in those days. And the roof ridgeline dipped 6 inches. We used a laser system to create a computerized 3-D model that revealed the high spots and low spots so that we could get a totally flat roof."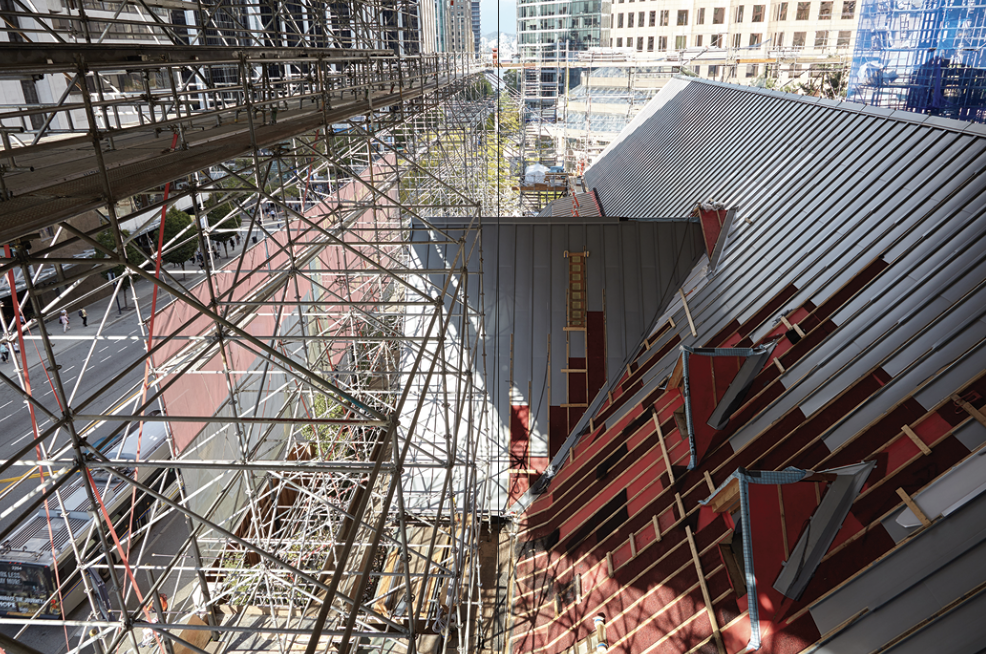 Kellogg was quick to give credit to another company that was involved in leveling the structure, Pacific Building Envelope Maintenance Ltd. (PBEM). "PBEM based out of Vancouver did a lot of the framing working under the supervision of our superintendent. They were very instrumental in getting us a level roof. It was a tough, tough job. They added a huge amount of structural steel. We couldn't have done it without them," Kellogg said.
Architectural design for the project was provided by Proscenium Architecture & Interiors, Inc. of Vancouver. Renovation of the historic building was deemed a Heritage project and had to meet certain guidelines for approval. "Good Heritage practice requires that the renovation be respectful of original materials," according to Proscenium's principal and architect, Hugh Cochlin. "We gravitated to zinc pretty early in the process. We wanted a durable material that would last forever. We expect to get 100 years or more from the RHEINZINK. Plus it looks contemporary, but it is respectful of good Heritage practice. The Heritage Commission quickly approved our use of it."
Kellogg concurs regarding the lifespan of the zinc. "With the pitch of the roof, it's easily a 100-year roof," he said.
The traditional prePATINA blue-grey color was another reason for selecting these panels. "Everyone likes the way the blue-grey panels complement the natural stone on the building," Cochlin said. "We absolutely love the product."
Another interesting attribute of zinc that influenced its selection for the project is its ability to repel moss. "The Cathedral is in somewhat of a concrete canyon with high-rises all around and thus gets very little sun," Birtwell said. "The previous roof was really moss-covered. We sometimes joked that the moss was the only thing holding the old building together."
The detailing on the job was complex with multiple interfacing. "We had complicated transitions," Kellogg said. "There was no caulking, no screws – all traditional methods. There were lots of pitch changes and elevation changes that made the installation time-intensive. It was definitely a labor of love."
According to Cochlin, all of the details were drawn by hand. "That's definitely old school," he said, "but particularly appropriate for a Heritage project. We worked closely with the installers and had many on-site meetings. There was definitely more collaboration with the installer than is the norm today."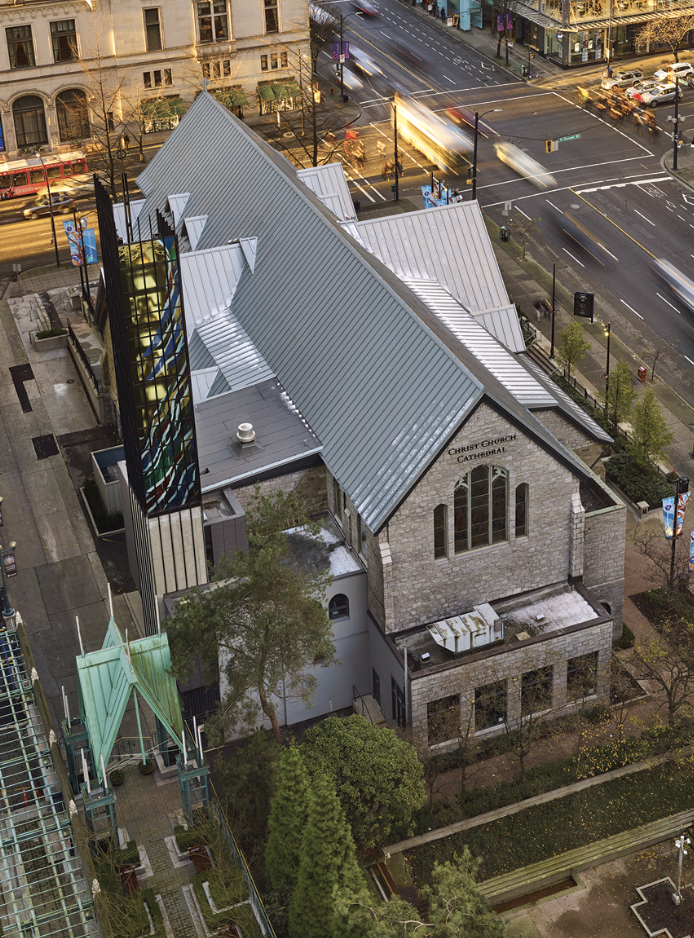 The drainage system used traditional 6-inch half-round gutters and hangers, outlets and expansion joints. "It's a beautiful system and complements the scale of the roof," Kellogg said. On several small dormers, 5-inch gutters were used.
MR
Another major aspect of the final-phase renovation was the addition of a highly-anticipated bell spire set atop the existing elevator core. The open glass and steel structure housing four custom-cast bronze bells was the last significant architectural addition to the project. The bells were cast in France, and the bell spire glass features a design by Canadian artist Sarah Hall.
The bells ring at the beginning and end of the workday, on Sundays, for weddings and funerals, and to mark special celebrations in Vancouver's civic, interfaith and multicultural community. "Completion of the project protects the heritage of this historic and much-loved church," said Peter Elliott, dean and rector of Christ Church Cathedral.
The project's general contractor was Scott Construction Group, Burnaby, British Columbia. The RHEINZINK distributor was Alesther Metal Distributors, Ltd., also in Burnaby. MR
RHEINZINK America, Inc. led the introduction of architectural zinc in North America and continues to offer roofing, facade and wall cladding gutter, and interior applications throughout the United States, Canada and Mexico.