By Linda Schmid
Estimates are a necessary part of the job for roofers, but they take time, can put workers' safety at risk, are subject to human error, not to mention that travel and a ladder may be required. Considering that there is no guarantee that you will get the job, minimizing the time and trouble involved in this aspect of the work is likely a top priority, which is why so many roofers have turned to imagery. The basic offerings are: satellite, drone, and aerial imagery. 
Tony Agresta, General Manager of North America at Nearmap said that aerial imagery is popular with roofers because it gives them instant access, it's dependable, economical, current, and they like that they can look at roofs over time.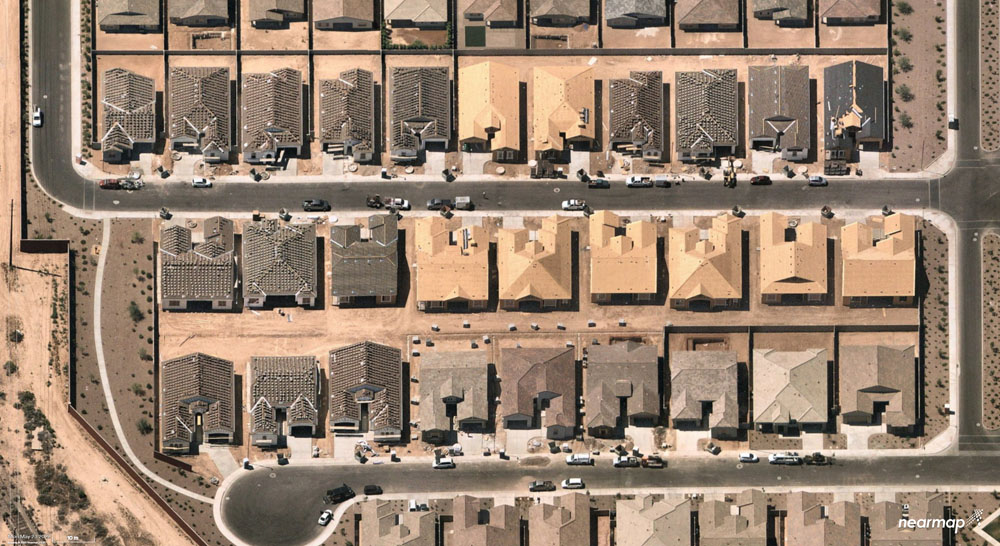 The way it works at Nearmap is that the contractor pays for an annual license based on the amount of area they cover and their stated needs, usually measurement and remote surveillance, which makes it affordable even for small companies. Once licensed, they go online and the information they need is at their fingertips. They can enter an address, and inspect and measure the roof. They also have access to the historical mapping of the roofs in the area over the last seven years to monitor changes over time.
A roofer can even tell what type of material a roof is composed of and have them color-coded. The Photo Realistic application shows every detail including venting, piping, and more.
Aerial imagery is very efficient compared to physical surveys or drones because you don't have to pay to have the survey done over and over in order to get an updated map or to see degradation of a roof over time; you just log into your account. If you were using drone imaging, you would have to send up the drone, download the imagery, process it, and upload it online.
Nearmap started out in Australia in 2007 with the idea that they wanted to build their own high resolution camera system. They accomplished this goal; Agresta says that their aerial imagery is in the 5-61½cm range, approximately 3-4 times higher resolution than satellite. Early next year they will come out with their Hyper Camera 3(HC3) which will be at about 2½cm for 6-7 times higher resolution.
Cameras are mounted in planes that fly at 14,000 feet and take millions of photos. They include vertical shots, top down, or oblique, sidewise which allows you to measure height, and angles, achieved through their patented mirroring shots. A patented device levels out the imagery should the plane dip or experience turbulence.
As time goes on and technology is updated, cameras are capable of capturing imagery in larger and larger areas with one pass making flights more efficient.
Flights are made in spring and fall on crisp, clear days, then the imagery is run through their patented processing system, and updated to the Cloud, ensuring that the imagery their customers access is recent.
Post-catastrophe flights are made to capture damage once the storm has passed. This is another popular piece of the puzzle.
Nearmap has partnered with other services, which will take the imagery and create a report transforming square footage into materials needed along with the associated costs. They also provide the imagery to feed the architectural roofing software of some of their partners.
With so many benefits for roofers, only one challenge is evident. Instant access aerial imaging does not necessarily cover all buildings. Agresta said that about 15-20% of the U.S. is not covered by Nearmap's aerial imaging. In those cases, a roofer can access satellite imagery. MR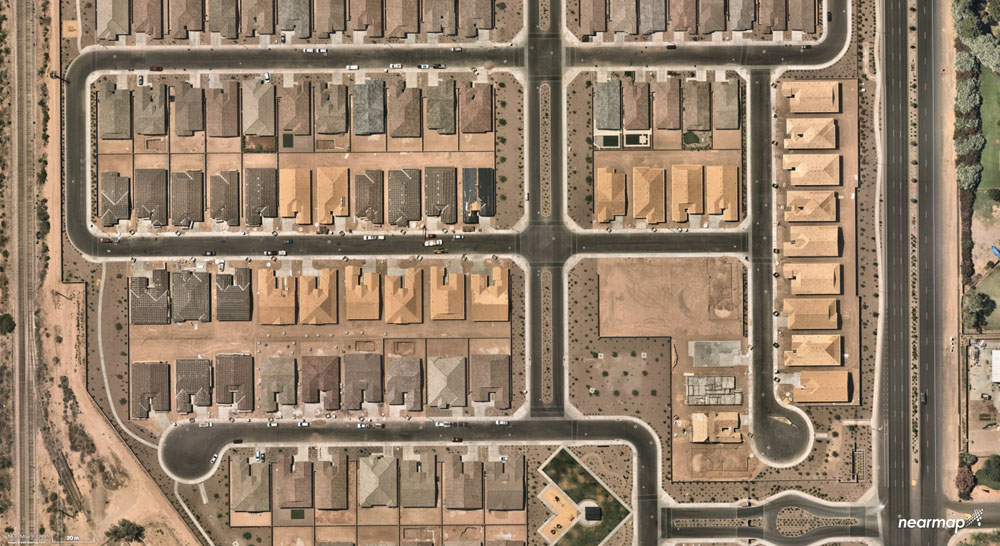 ---
The Aerial Imagery User's Viewpoint
Premier Metal Roof Manufacturing provides imagery for the roofers they work with, usually aerial imagery, however, they are not the producers of that imagery. They have subscriptions with aerial imagery services because they find it to be the easiest way to provide this service. 
Satellite service covers all areas, however, it is not as accurate as aerial imagery. Drone imagery requires someone to go to the site and take the pictures, or alternatively a customer may provide the drone footage, which has to be downloaded, processed, and uploaded to the internet. With a subscription to an aerial service, a user logs in and the footage is at your fingertips. This is important, says Ray Bowen, President, because Premier Metal Roof Manufacturing strives to provide a 24-hour turnaround to its customers.
Aerial imagery can be tricky though, Bowan says. Tree coverage can get in the way and then drawings from the client are the way to go.
While Bowen characterizes imagery as reasonably priced in general, he does specify that some of the subscriptions they have purchased are preferable to others. Some of them are priced per address; some are per view. Per view means that every separate view over the history of the roof, every angle, every time you access it, you get charged. That can add up.
A challenge that is particular to metal roofing is that the estimate has to be really accurate. If you are doing shingles and you are within 1% you can make it work, but you don't want to cut any metal until you know the exact measurement for metal roofing. Ultimately the responsibility lies with the roofer, since roofers may have different ways of installing roofing, so if any adjustments are needed they must specify what they need for their job.
The precise requirements of metal roof work is why Sky Cad™, the company's proprietary software was developed. Once the client has obtained the imagery, it can be run through for analysis including square footage, materials needed, and costs. This is included with the quote.
Bowen said that they strive to be the best partner they can for their roofers so that they have accurate estimates and information with a quick turnaround, and they can win more bids. Hopefully, if Premier Metal Roof Manufacturing has done a good job of partnering with them, then the roofer will procure their supplies from them. MR
---