By Sharon Thatcher
According to former coal miner, Brian McCown, there is an old saying about work opportunities in his area of eastern Kentucky: "the old saying is: coal mine, moonshine, or move on down the line," he said. 
But McCown has added one of his own: metal roofing.
McCown's operation, Brian McCown Construction, Eolia, Kentucky, is not huge: just himself and two employees. His work doesn't include huge copper steeples or fancy architectural shapes. It does include many challenges, however, and ample opportunities to make a living at what he enjoys in a hardscrabble area devastated by the decline of coal.  
This former coal miner tells his own story best. 
"We all started out around the coal fields," he said. "My dad worked his whole life in the coal mines and I just thought that was the direction I was supposed to go. I had about 11 years around coal mines."
He worked four 12-hour shifts, followed by four days off. During his off hours he found other employment.  
Growing — Job by Job
"I've always done something with my hands," he said. "My dad was one of these guys who built everything we had. We didn't buy much, we made it. He could build and do anything. He drove into me to be all I could be; get out and make it by yourself. When I was younger, I was mad at him because I wanted to play, but he drove into me how to make it."
The type of part-time jobs McCown was picking up included home repair. People in his rural area recognized the value of metal panel, often using it for underpinning mobile homes. "We took a job one time on a place; we built some things, and while we were there [the owner] tried to talk us into doing a metal roof," he recalled.
Inexperience was no excuse. "We got into it and it turned out ok," he said. "We got it looking nice.
"Then we done another one or two [metal roofs] by word of mouth, and after we had done four or five of them we thought, well, maybe this is something to get into. We started making a few business cards and doing our homework."   
The work kept coming.
"At times I was doing better on my four days off doing this type of work than on the days at my regular job. I got so busy that I was working every single day," he said.
McCown decided to go full time into the roofing business in 2008. His decision coincided with the arrival of the Great Recession, but his options were limited. Times in the coal mines were getting tough. The country was being encouraged to move away from coal, and demand was diminishing.  
Life Lessons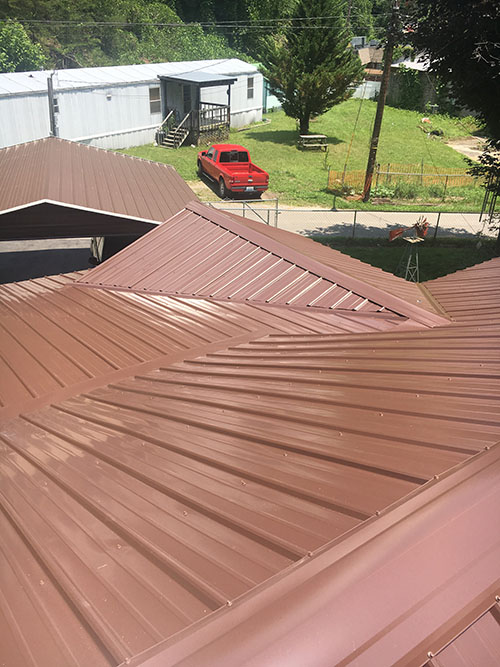 McCown's father, who worked up through the mines to be a supervisor, was nicknamed "Work Work" because of his commitment to his job. "When he took that management position it was like the mines were his. I remember as a kid, he would come home from his shift, eat a bite and turn right around and go back. He drove into me, if you want it, Son, you gotta' work for it; go out and get it … I always looked up to him. He always said, you can be a little or you can be a lot, it's up to you."
Although his dad died early, the values he instilled in Brian did not. "When I got into [the business], I decided that I'm going to fight this battle and I'm going to fight it until I can't no more, and if I lose, I'm going to stand back and say I gave it my best."
It was a struggle, he admitted. "I had to go through some hard times … In the beginning, I didn't really get connected with anybody to help me, I didn't have any work to show for it. I come in hoping I could make it, with no good way of showing I could make it.
"If you'd seen how I got started, gosh I was struggling. I bought this van, it was like a passenger van, and I just jerked the seats out the back of it and threw me a ladder rack on top of it, and I was trying to make it. If you'd seen over the years how we advanced, and where we came from, as small as we are, and as poor as we started, I'm just proud of where I am today. 
Diversified Drive
"One thing that got us through," he added, "was being able to do other things. We'd go build decks or porches or porch roofs or vinyl siding, do some interior work, remodeling, new additions. We had to be able to do other things or we would have gotten really hungry."
Another sideline was making rustic furniture from old barn board and pallet wood. He also loved to work on hot rods, and would buy an old one, fix it up and sell it for a profit.
"My No. 1 priority was still my business. Once I started it, I was going to push it until I couldn't see no more light at the end of the tunnel. Whenever I could see that the day was done, that I couldn't do nothing else with it, it was nothing for me to open up my garage doors and start working on cars or build furniture."
Better Times Ahead
The hard times of getting established are behind him and the metal roofing business has never been better. "I'd say in the past 5 years we've been really, really busy; this year in particular has been a record-setting year. We are leaps and bounds ahead of where we were last year," he reported.
A lot of McCown's work involves reroofing older homes. The challenges are often complicated by houses that started out small and grew in contorted roofing directions as families grew. They were originally roofed with asphalt that could bend and slash easily around the contortions, but didn't last. "The weather we have here is pretty tough on shingles sometimes and they just don't hold up. They'll develop issues and people will call us up and wonder what some options are," McCown said. Metal has become a popular option.
Once working only within a small home range, McCown has branched out. "Now we travel into Virginia, and we've worked in Tennessee, Kentucky. We've gone up to 200 miles. Most are customers who live here locally, and they have a house or a little cabin in Tennessee where they hunt or vacation."
McCown said about 75 percent of what he does is metal roofing, with an increasing number of new post-frame metal buildings on his list. His crew does everything from laying the concrete, to framing, to electrical and plumbing.
He is hoping to add more new buildings since they are quick to build and easier to roof than older, patched-together houses. Hobby shops are particularly popular with his car-collecting friends. "I've built six of those metal buildings so far this year and I have two more to build. I know that work don't sound huge, but in a small little community where there's not a lot of money rolling through, its huge for us," he said. 
The Value of a Trusted Supplier
McCown considers his metal supplier an important ally. He buys from Taylor Metal Roofing & Siding (www.taylormetalsales.com), which has locations in both Prestonsburg and Jenkins. He likes having a local supplier for his metal panel because service is quick. "Any time we need material it's no more than 15 minutes to half-an-hour away," he said, "and the staff is always ready to help us."
 
Marketing His Business
McCown relies a lot on word-of-mouth advertising for his marketing. "Word of mouth they say, whether it's good or bad, it's going to follow you. That's probably the biggest thing that's kept us working," he said.
He estimates that 8 out of 10 calls are from people who were referred by previous customers.
Some people may review his Facebook page as well. "We post all of our work, so that gives everybody a good view of what we do, and they can read the comments of the previous customer, what kind of job they got," he said.
His Crew
McCown's crew includes himself, plus a 30-year construction veteran, and a young newcomer, all with strong work ethics. There are times when McCown considers adding a second crew or at least another crew member to his 3-man team. "We could stand another guy, but we've talked about it amongst ourselves and to find somebody that would fit into with what we're looking for … we're pretty particular and pretty much like family."
He added: "I've got a crew right now that I think I could split into 10 directions and they'd be as good as anybody. Right now, it's just us and we work like clockwork. We know what each other's thinking. When we get out of the van in the morning, everybody's got a job to do and you don't have to say a word to nobody. All you have to do is head up the ladder and get busy. These guys are just down-to-earth country people who want to go out and make an honest living, go home, rest up and do it all over again."
Pricing Changes
Pricing a job for reroofing in particular can get complicated.
"You never know what you're getting into," McCown noted. "You can get into a really old house, and it's so rotten and so damaged and you're in a mess. You can't hardly price a job like that at the beginning because you never know what you're going to get into. This is what I tell people: I can price this roof to you, but if once we get up there and start putting it on, if there's nothing for it to bite into, we've got to pull this up and see what's going on."
 
Advice to New Roofers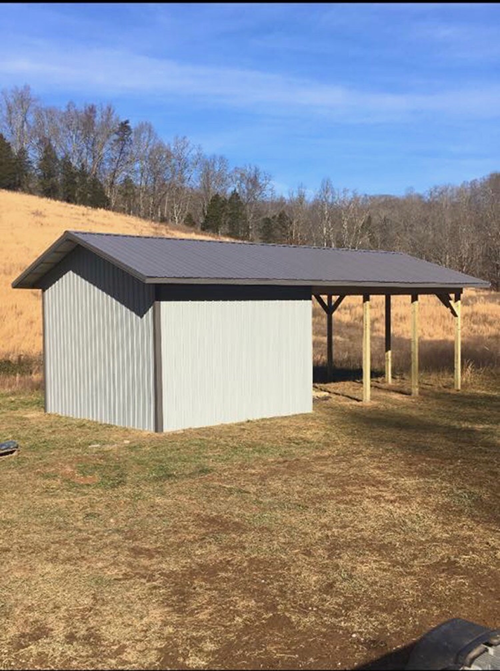 "If I had to tell anybody something about wanting to get into something like this, I'd say, you've got to be determined," McCown advised. "Be able to make it in the beginning knowing that you're not going into it wide open and at the top."
Also, be prepared for slow times; "because it's going to come, so be able to make it through that," and try to find someone you can depend on for advice. "Not only try to be financially prepared, but try to find somebody [a mentor] that is willing to help, and don't hesitate to say thank you or to pay them back.
"It's a team that makes any of this happen," he emphasized, pointing to his own business experience. "It's not all about Taylor Metals, it's not all about me, and it's not all about my workers, it's also about the customer. And I never fail to thank the customer for giving us an opportunity to earn their business."
He hesitates over the word 'customer'. "They're not really classified as a customer to us," he said. "When we leave there, we make friends of these people. I stand behind our work. I tell them straight up, if you ever have trouble, call me and I'll be back." 
Serving Others
McCown finds it hard to turn anyone away, especially someone on a small-town budget with a leaky roof. He has been there himself and concedes that life can take some unexpected turns and he could land there again one day. At the same time, he doesn't want to downgrade his materials, which in turn could downgrade his own business. "One question I get asked a lot, is do you have a #2 grade metal available, but the look just doesn't hold up, so we try to get them the best quality of materials we can at a budget cost," he said. 
"Things like that keep us working," he added, "because people know that we're not out there to just rake in every penny we can, but we are compassionate about what we do and have a heart for people who can't do as they'd like to because of a health condition or the money they have." 
Still, the roofing business is "hard, hard work. I'm just happy to be where I am today," he said. "Financially I'm doing good, but it's backbreaking work. … When you get home, you know where you've been all day."
As McCown looks back on his journey, he is amazed at how far he's traveled. It's been a long, hard road and a rough hill to climb. "It's really emotional to look back at the bottom of that hill and wonder how in the world did I climb it," he said, "and I don't think I could go back to the boy and get back up it, honestly, because of how dang tough it has been, and you wouldn't believe how many [people] had tried it and failed. I feel so fortunate and thankful, you just don't know!" MR
Editor's Note: This article is the first in an ongoing feature column called "Peak Performers" looking at successful metal roofing companies and suppliers, big and small, throughout the country. If you have a business in the metal roofing industry and are willing to share information about your journey, or your journey to complete a particularly challenging project, contact [email protected]. We don't charge anything, we don't pay anything, but you can use the nationally published article as bragging rights in your own marketing efforts.