Vote Now! The deadline is January 15!
It's time to vote for the Metal Roofing Magazine Metal of Honor Awards. Vote now to support the suppliers you've come to respect and depend on.
The Metal of Honor awards were created to allow metal roofing installers an opportunity to honor those who help them most by providing quality products and excellent service.
Voting for your favored roofing material manufacturers and suppliers is a great way to show your support and further build relationships – and it doesn't cost you a dime.
This is the 18th year for the Metal of Honor awards program. Nominees this year are:
ABC Supply Co.
AceClamp
Advanced Architectural
AkzoNobel Coatings
Ameripak
Applicad
ASC Machine Tools, Inc.
Atlas Bolt & Screw
Aztec Washer Company
The Bradbury Group
Building Products Development
Direct Metals Inc.
Drexel Metals Inc.
DripStop
Dynamic Fastener
East Coast Fasteners
EDCO Products
Englert
EPDM Coatings
The Garland Company
Graber Post
GSSI Sealants
Hershey's the Metal Meister
Hixwood
I-Beam Sliding Doors
IMETCO
Isaiah Industries
Kirsch Building Products
Leland Industries
Levi's Building Components
Logan Stampings
Malco Products
Marco Industries
Maze Nails
MBCI
McElroy Metal
Metal Rollforming Systems
MFM Building Products
Midwest Enterprises
MWI Components
Onduline/Tuftex
Owens Corning
Petersen/PAC-CLAD
ProVia
RapidMaterials
Raytec Manufacturing
Reed's Metals
rFoil Insulation/CoverTech
Roll Former LLC
Roof Hugger
Russian Mining Chemical Company
S-5!
Sheffield Metals
Sherwin-Williams Coil Coatings
Sherwin-Williams Company, Geocel Product Group
Snap-Z
Sno Gem
ST Fastening Systems
Swenson Shear
Triangle Fastener Corp.
Underlayment Specialties Plus
Union Corrugating Company
Ventco/ProfileVent
You can vote for up to three nominees. Or, you can write in your own nominees!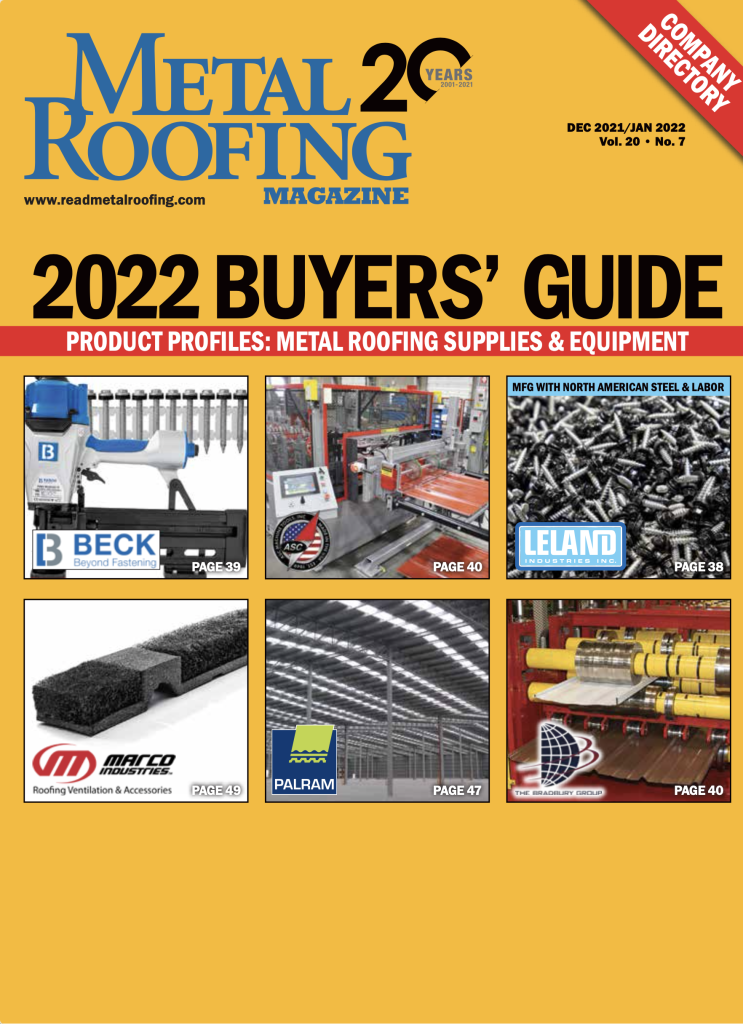 ---
Get Metal Roofing Magazine delivered directly to your mailbox … or your inbox.
Like all Shield Wall Media publications, Metal Roofing Magazine is free to everyone in or associated with the construction trades. Metal Roofing Magazine is published 7 times per year and available in either print or digital format.
---