TPO roofing membranes are one of the fastest growing commercial roofing segment. They are made up of a Thermoplastic Polyolefin base and a variety of mineral fillers, depending on the required flame retardancy. This type of roofing has become widespread thanks to its natural ability to reflect UV radiation. The typical life span of a TPO roof is 15 to 20 years—if installed and maintained properly, this can be increased up to 30 years.
As the membrane is exposed to all kinds of stress factors, like sun radiation, heating-cooling cycles, wind (mechanical impacts), humidity, etc., only proper components are to be used in the production of a TPO membrane in order for it to maintain its insulating and mechanical properties throughout the life cycle. On the other hand, any mineral filler added to the plastic will decrease its ability to withstand aging and shorten its lifetime. This is why only the purest synthetic fillers have been traditionally used in the production of flame-retardant TPO roofing membranes.
To create fire-resistant membranes, synthetic grades of aluminum (ATH) or magnesium hydroxide (MDH) are commonly used as flame retardants. EcoPiren® is a natural magnesium hydroxide, produced exclusively of the purest minerals mined in the Russian Far East. Similar to synthetic grades of ATH and MDH, it provides a combination of flame retardancy and mechanical properties. In this study, we are going to show that the purity of EcoPiren® aids in the production of TPO roofing membranes without sacrificing any aging resistance, fire performance, or mechanical properties.
Differences Between Various Flame-Retardant Fillers
A comparative test of different flame-retardant fillers' performance has been conducted in a model formulation to evaluate the capabilities of high- and low-purity brucite against high-purity synthetic ATH and MDH.
The original mechanical properties were first evaluated (picture 1, below right). Synthetic grades (not surprisingly) showed top-of-the-pack results. Uncoated and excessively coated brucite grades showed the poorest results. Appropriately coated high-purity and low-purity brucite grades showed good results, landing only slightly below the synthetic fillers.
Next, aging tests were conducted: accelerated thermal aging at 140°C (284°F) and accelerated UV aging (ASTM D4329 cycle A). Samples were exposed to high temperatures, UV radiation, and moisture condensation. After the tests, both mechanical properties and oxidation induction time were evaluated. 
Synthetic fillers performed differently based on their purity. The samples made with seawater-grade MDH of moderate purity could not withstand the full length of the test and were destroyed, along with low-purity brucite grade (both were coated with stearic acid). Uncoated, high-purity brucite grade and extensively coated brucite grade performed similarly to each other in terms of elongation, which also dropped below 100%. On the other hand, high-purity synthetic and brucite grades performed better and the end result was almost identical for sMDH and EcoPiren® 5,5C. Mechanical properties of all compounds changed during the UV test, similar to the thermal aging. Due to lower temperature, the decrease appeared much lower.
Another important property, which drastically changes during UV testing, is OIT, which indicates the residual ability to withstand the stress factors.
Moderate-purity synthetic MDH grade performed worst of the synthetic fillers, with high-purity synthetic MDH finishing on top of three. Low-purity brucite started and finished worst, confirming the bad influence of the iron contamination on the aging performance. Appropriately coated high-purity brucite EcoPiren® 5,5C started the test and finished it with the highest OIT, which shows the ability of high-purity natural fillers to compete against synthetic grades in aging performance.

Fire resistance is also an important part of any TPO membrane. Though the tested formulation is not highly flame retardant, it is sufficient for the market. To compare the performance of the synthetic MDH and ATH with natural brucite EcoPiren®, a vertical DIN 4102 B2 fire test was conducted. The testing parameters were as follows:
• Sample dimensions: 20 x 20 x 1.5 cm (7.8″ x 7.8″ x 0.6″)
• Fire application angle to the bottom edge of the sample: 45°
• Burner: Bunsen type
• Flame application time: 30 seconds
• Compound filling level: 50%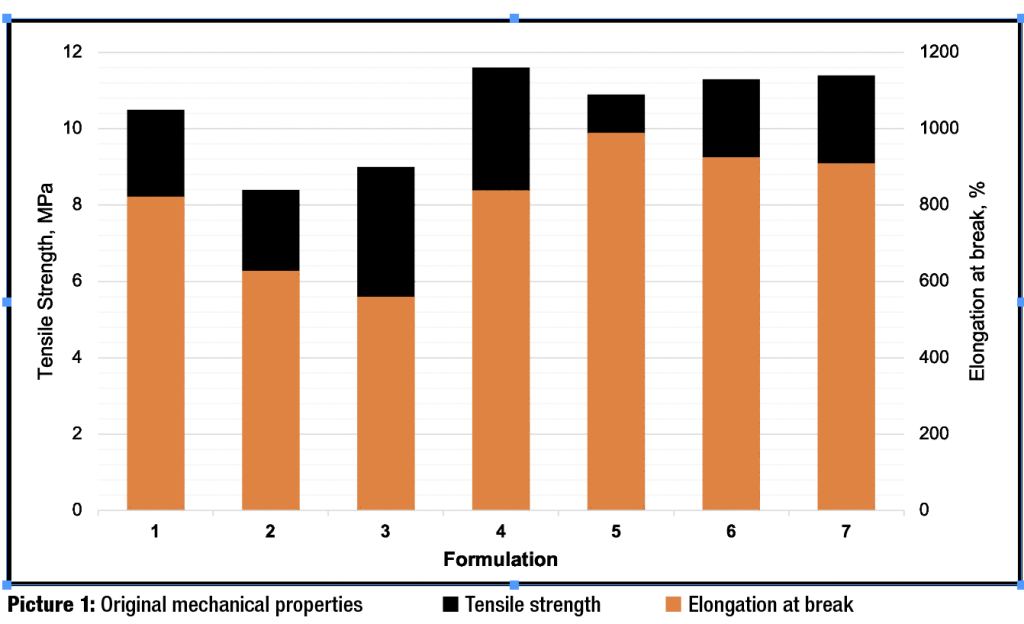 As the overall flame performance of the samples is not so high, the comparison between results of different fillers shows the similarity between both MDH grades (though the synthetic one is obviously the favorite here) and the advantage of the MDH over the ATH in terms of flame propagation speed.
Conclusion
The performed tests show that the use of synthetic fillers is not a universal answer to aging requirements. There is a difference between synthetic grades based on purity, which can be a borderline between a nice and unacceptable performance. The purity of natural brucite EcoPiren® proved enough to withstand tough aging tests on the same level or better than the purest synthetic fillers on the market, with slight to no sacrifice of mechanical performance. MR